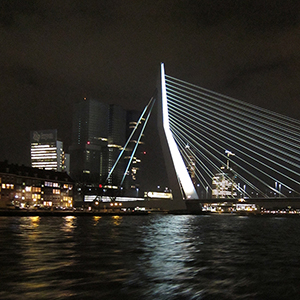 I came back to Rotterdam city, it's my second home town, used to live for 3 years. At this time, I stayed for several days in Rotterdam for participating to Yakuzen lesson by Kyoko Onishi sensei.
She studied Osawa style medicinal cooking by Lima Osawa  and universal medicinal principle under Hideo Omori.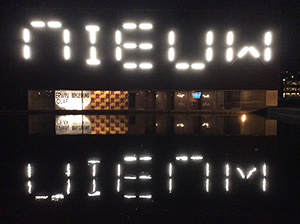 She's been lived in Belgium more than 30 years, and She dedicated her energies to introduce Japanese yakuzen tradition to modern Europe using European ingredients.
Now She lives in Japan,  dedicates her energy with her medicinal cooking to help children in Fukushima area.
Before lessons, I, my friend and Kyoko sensei took a waterbus and visited in Dordrecht for having a lunch with another staff of the lesson.
Villa Augustus is fantastic place which has a natural food shop, restaurant, vegetables garden and hotel,  all space are recovered from ex-old port buildings at Dordrecht port.
http://www.villa-augustus.nl/new/index-flash.html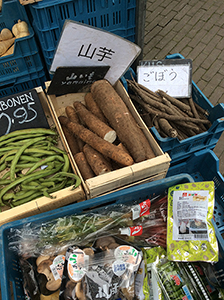 The second day bio-food market in Den Haag, we found many japanese vegetables – YAMAIMO, GOBOU, JINENJO, and some seeweeds – KOMBU, WAKAME from Bretagne in France, at the one of big stands there.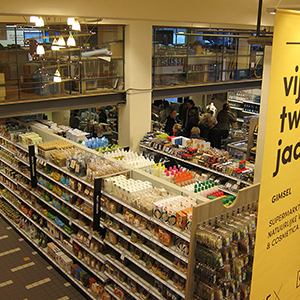 The lesson was held in De Groene Passage, is the biological foods market in Rotterdam. They also created restaurant space – buffet stile, pay for per kg – to eat natural foods.
I remember that when i lived, this place was small and a little bit sad to eat a few vegetables plates, seen only vegetarian people were a frequent customer.
However, now i've seen so variety of people come in, atomosphere is very contemporary and cozy, a variety of cookings are possibiliy choosen.
www.degroenepassage.nl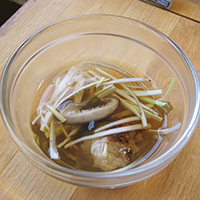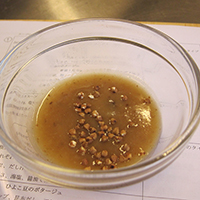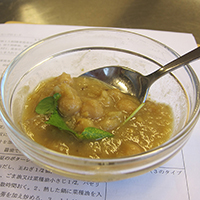 samples of 7 type of soups by her yakuzen theory.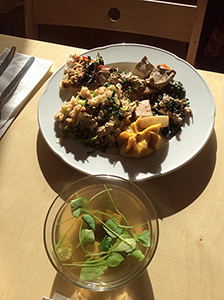 In the day of TOFU lesson, She showed 7 ways of cooking with TOFU.
A way of cooking should be adapted to depends on how people's health condition.
She is very cute, elegante and sweet, calm at the same dynamic.
Her theory is very interesting, comprehensible. Never say words to restrict eating some foods neither impose her theory.
All plates are amazingly tasty, I loved her yakuzen pizza and chickpeas soup.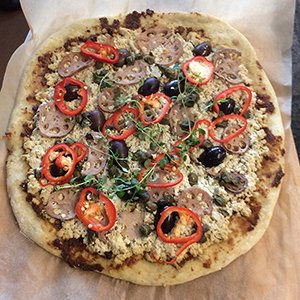 TOFU pizza :
Tofu, Miso, Olive, Kepper, Lotus root (RENKON), Paprica!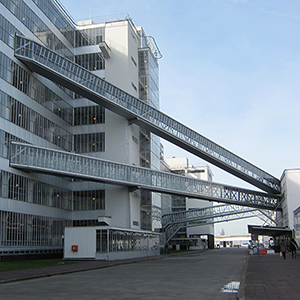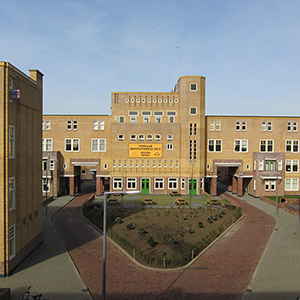 My friend took me for sightseeing in Rotterdam, Van Nelle, kralingen lake, Nord of Rotterdam station area,  Zuid Rotterdam, Sparta stadium, Justus van Effencomplex, some of them are new for me.
We also been to see another bio-market in Rotterdam, Uit je Eigen Stad near the Marconiplein.
Bio foods shop & Restaurant.
I took bio brown bread and gouda cheese, it's very ducth lunch!
I immagine how will be great to visit here if the time was in summer!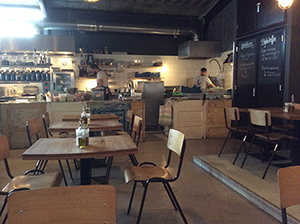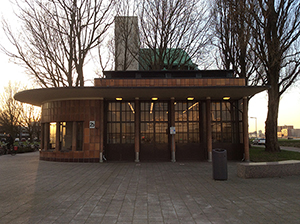 Viva Maas Tunnel!
(The best place in Rotterdam!)
Who remember this apartment G-11B?
A lot of Thanks to Maki,
See you again!